Interviews with creative people about their business. Read Follow Magazine if you're an artist with business smarts.
Follow Magazine is a publication about how successful visual artists, filmmakers, writers and musicians put their business together. March, a filmmaker himself, says, "the promise of the Internet is that creative people can connect their art directly with their audience but it doesn't happen by accident."
Follow Magazine is all about you and your creative work. How do you connect with an audience?
Follow Magazine has been published digitally since December 2015. It's available to read on your smartphone or tablet, but you've asked for more, so here it is. This Kickstarter project is for a hardcopy edition of Follow Magazine
That's the digital edition. Now we're going print.
With five issues published on the App Store and Google Play, it's time to inhale that "just been guillotined by the printers" scent and get a hard copy of the magazine on to a coffee table near you.
Download the first digital edition of the magazine here so you can see the great design and practical, insightful interviews and articles. This is just an example of what you can expect in the hard copy edition. The image below is the cover of our very first digital edition to whet your appetite for the soon-to-be-printed, hard copy edition.
The core of the magazine content is fascinating interviews about making and marketing creative work with artists and other creatives from around the world.

About Project Creator: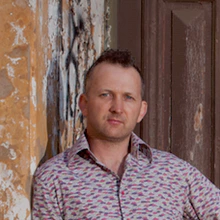 Nathaniel March
Nathan March has worked in the creative industries for over twenty years, first as an actor and playwright and now as a filmmaker and magazine publisher.
Nathan's experience, both in promoting his own work and watching other creatives connect with their audience, was the catalyst for his business venture, Follow Magazine.
The bi-monthly digital publication provides inspiration and tools for creative people building an audience online and developing their art practice into an art business. View Full Bio

Link to the Project:
https://www.kickstarter.com/projects/744578156/follow-magazine-marketing-secrets-for-artists/