You'll never have to choose between style and practicality again! Elephant Stripes Travel Packs have it all!
FEATURES:
All packs are made with high quality, water-resistant, 1000D Polyester material and strong locking YKK zips and buckles.
The interior of the bags have useful pockets, compression straps and fun liners! The Rainforest and the Geometric Explorer have plain black liners to make them more attractive to both men and women.
The only difference in the features between the two sizes of bags is that the 65L pack comes with a zip on daypack, and has a lightweight frame to give it some structure.
Front Loading
Comfort Deluxe Harness
Zip Away Straps
Attachable Shoulder Strap
Rain Cover
Laptop Pocket
Zip-on Daypack (65L Only)

New online start-up, Elephant Stripes, is revolutionising women's travel style, selling an amazing range of custom designed travel products in inspiring designs. Launched in March 2016 by two young women from New Zealand, they have taken the male dominated travel & outdoor industry by a storm. They recently launched a Kickstarter campaign for their stylish Travel Packs.
As travel-lovers themselves the Kiwi co-founders, Francesca Logan and Jordan Abrahams, got fed up with always having to choose between travel gear that looked good or that was durable and functional. "We noticed that most travel gear was made by men and for men with women and style as an afterthought. So we decided to do something about it" said Francesca.
Age was no barrier for Jordan and Francesca, who first started brainstorming the idea for the company while at Victoria University of Wellington at the age of 21. Now aged 23 the co-founders admit that while at the beginning they often avoided admitting to their age for fear they wouldn't be taken seriously, they are now comfortable being young business women, with their ever-growing experience in the manufacturing and product design industries to back them up.
After launching their website at the beginning of March with their product range including modern Suitcases, Duffel Bags in many exciting designs, ingenious Folding Bags, patterned Packing Cells, beautiful Cosmetic Cases and more, the new company today launched their travel packs onto crowdfunding platform, Kickstarter. On Kickstarter "backers" pre-order the packs, which are then manufactured and delivered to them by October at the latest. The pair chose to use this platform as they say it was a great way "to reach a large audience of people across the globe that could see our product, back our company and be first in line to receive the packs". It was also a financial decision to get the required funding needed for the first round of manufacturing. In return for their patience, the backers are rewarded with up to 40% off the recommended retail price of the bags – the faster they get in, the better the discount.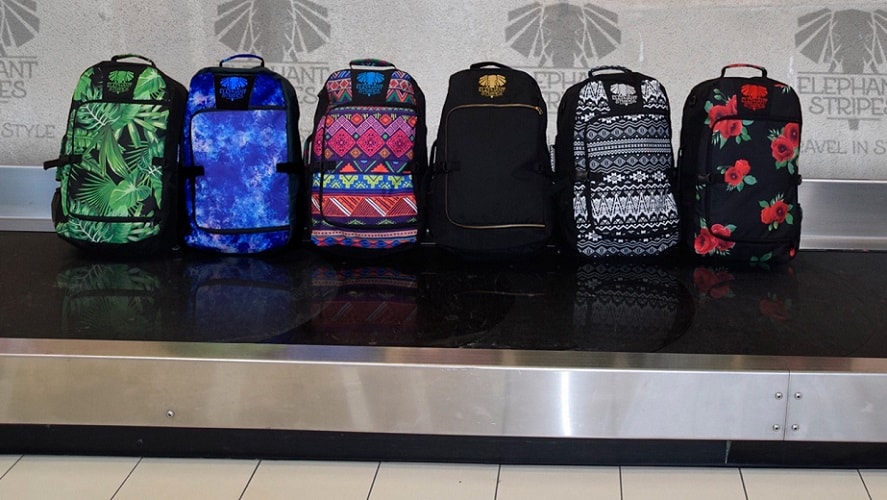 The packs come in 2 sizes and include all leading-edge travel pack features, to name a few - front loading, a fully adjustable harness system, zip away harness, a dedicated laptop pocket, a built in rain cover, zip on daypack and an attachable side strap. The bags use high quality materials and YKK zips and buckles.
Jordan and Francesca thought that of all travel products, packs were the most in need of a "style revamp". "We were horrified by the mud-brown and boogie green shades previously on offer and when it came to female travel packs more often than not all that was being done was to 'shrink it and pink it' said Francesca. Elephant Stripes' packs come in a choice of 6 unique designs covering many different styles from flowers, to Aztec to a black bag with a feature gold zip.
They use a 'bag for bag' model – similar to the Toms and Warby Parker movements. For every bag sold during the Kickstarter campaign Elephant Stripes will donate a school bag to an Indonesian child in need. They have partnered with the Bali Children's Project, a reputable not-for-profit charity registered in the US and Indonesia.
This initiative isn't the only charitable aspect of the young company. Both Founders stress the importance of being at the forefront of the movement towards better business practices. The duo carefully selected their manufacturer in Indonesia that best aligned with their values, they set up a charitable foundation, The Ashla-Maia Foundation, which owns a portion of the business and they are in the process of moving to fully recycled packaging. They aim to broaden this aspect of the business and say in the future they want to use recycled fabrics, help out other female entrepreneurs and get involved in Elephant Rescue projects.

Our Mission:
As avid travel lovers, our lives revolve around all things travel. We have spent years searching high and low for exciting gear for our adventures, but to no avail. Over and over again we had to choose between travel gear that looked good OR was durable and functional. We aired our frustrations with friends and found they shared our want of better travel products.  We noticed most packs were made for the primary purpose of hiking, not travelling. The result was ugly, top-loading bags, with straps hanging off everywhere that were less than ideal for travelling.
We thought "Surely travel products could be stylish, without compromising on functionality?… maybe we were going to have to be the ones to do it"
Thus the idea for Elephant Stripes began to grow….Two years, a fair bit of travel, many crazy moments and late nights later…Elephant Stripes has arrived with the perfect travel packs for stylish globe-trotters!!

About Project Creator:

Elephant Stripes started with two girls from New Zealand who love to travel. We were both lucky enough to grow up in the beautiful North Island of New Zealand, but always had a curiosity to explore what lay beyond our small country on the edge of the world. After meeting on our first day of university when we found out we were roommates, we quickly bonded over a passion for travel. Since then we've travelled extensively both together and separately to over 20 countries. The joy of traveling, the people you meet, the places you see and the experiences you have is simply unbeatable in our opinion and it seems once bitten by the travel bug you've got it for life!
Francesca is the logistics and legal mind of the company. Using her background in law and her practical nature she keeps things on track and steers the ship.
Jordan is the creative genius behind Elephant Stripes. Charismatic and full of ideas, this hippy at heart brings all the pieces together and keeps the brand inspiring!

Link to the Project:
https://www.kickstarter.com/projects/677601707/the-worlds-most-stylish-travel-packs-buy-one-give/