Find your lifejacket inside your heart

Dina Karatza has started a crowdfunding campaign on Indiegogo as a goal of raising $60,000. KAΛΩSINI an art project for kind people. "KAΛΩSINI" is a Greek word which literally means; the quality of a man who wants to bring good and happiness on the fellowman. Its central goal is to transfer the message that this word carries around the world by organizing art exhibitions in different places on the planet while helping a different cause every time on this place. We invite artists to get inspired by the KAΛΩSINI theme and create a usable object of their choice; alternatively, they can create a work of art that can be incorporated or fitted on an object.
Part of the proceeds from the sales will be offered to aid teams or individuals in need, as well as for community or charity causes that can make the world better for us all. Art exhibitions will be organized in various cities around the world. The first one will be held in Cyprus on December 2016.
"KAΛΩSINI" encapsulates core values such as generosity, altruism, cooperation, kindness, emulation and inner beauty.
Symbol Story
Sometimes, we all ask for a "life jacket"… something to help us float till we pick up our strength to move on…
The project "KAΛΩSINI" is a life jacket – an idea that hope will inflate with your contribution to offer support and hope.
Kindness is ΚΑΛΩΣΥΝΗ in Greek, and they choose its old spelling, with the Omega.
Omega - Ω - may be the last letter of the alphabet, but it also symbolizes a gateway to something new.
Some of our attendee artists are:
Andreas Nikolaou – Painter

Mary Samolis

- jewel designer

Vangelis Kyris

– photographer
The person who inspired this initiative is Dina Karatza, a woman with over 20 years of career on advertising sector and the brain behind some of the most successful art events in Greece and abroad. Mara Kartali who is the jewelry designer and creator of the symbol bracelet and one the most passionate supporters of this project. Maria Perrou, a creative digital marketing enthusiast and community manager of the project. Manos Christopoulos, the tech-freak guy who supports all the technical issues and the website of "KAΛΩSINI" included.
Project goal is to spread the message and act kindly to the largest possible extent, engaging art around the world.
Project creator says "On this very first step, we have chosen to support the "Ark of the World". Why have we chosen this NGO and what makes it so special? Well, let's take a deeper look on the story behind the "Ark" and how we will contribute to this cause. We are committed, with great pleasure, to offer 6 dollars of the purchase of each bracelet to aid KIVOTOS TOU KOSMOY ("Ark of the World") and 10% of the rest proceeds amount we will collect by the end of our campaign.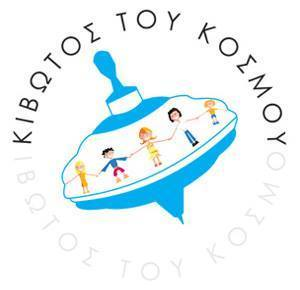 The "Ark of the World" takes care of children that have been experiencing abandonment, racism and social exclusion. It was founded in 1998 by Father Antonios Papanikolaou (26 years old at the time) with a vision to constitute a point of care, support and hope for a prosperous future of these children, the children of "another" Athens. The Greek children along with children from Romania, Bulgaria, Albania, Ukraine, Russia, Kazakhstan, Ghana, Afghanistan and Iraq, experience harmoniously the affection and peace of the Ark that relieves them from poverty, hunger, illnesses, misery, exploitation and illiteracy.
The European Observatory against Racism and Xenophobia has described Ark as "The brightest example against Racism and Xenophobia in Greece" for the year 2003.
In December 2004 the Ark was awarded by UNESCO.
In December 2008, Father Antonios Papanikolaou has been awarded by the Athens Academy for his humanity and his exceptional voluntary work.
KAΛΩSINI Rewards
Pledge $5- You will receive a "Thank you" email & Poster specially dedicated to you!
Pledge $10- You will receive a BADGE including "KAΛΩSINI" symbol and mantra. Shipping cost varies with location.
Pledge $50- You will receive this uniquely designed 925 silver rhodium plated bracelet. [$6 of every purchase will be directly given to the "Ark of the World"] Shipping cost varies with location.
Pledge $90- You will receive Gift Pack Symbol Bracelets: 925 silver gray & 925 silver black. On a very special gift case, you will receive 1 gray silver & 1 black silver bracelet to offer and share 🙂 [$12 of every purchase will be directly given to the "Ark of the World"] Shipping cost is FREE for this item.
SHARE THE LOVE. WE'LL LOVE YOU FOR IT!
The team welcomes your messages of support and encouragement, please do leave a message or comment alongside any pledge.

Have a look at the following Indiegogo link for more information:
https://www.indiegogo.com/projects/ka-sini-an-art-project-for-kind-people-arts#/