We are entered in the Olde Hickory Brewing and Howard Brewing Company Pro-Am!
Meaningful Craft beers and some of the most unique stuff you could have the pleasure of drinking.
At 4Chambers Brewing, we are focused on providing Craft Beer that honors those things we hold dearest to our heart:  Faith, Family, Freedom, and Friendships. Each beer has been carefully crafted to depict the true meaning behind what is being honored. With a variety of offerings to choose from, we're sure you'll enjoy our brews and what they stand for.  We are raising funds to go from the homebrew phase to licensed brewery.
4Chambers in not trying to open a flashy brewery from the start but rather is striving to achieve the grand ideal of proof of concept and obtaining our license to sell our respected product to the craft beer community.
We are a very small operation that painstakingly brews each batch and manually labels and caps each and every bottle.  We do this because we care about what goes into each bottle and the message each contains.
Are you able to do a precise blast? At 6:40 tonight, exactly 48 hours before the Super Bowl, I will hold a Kickstarter Super Bowl Special. Anyone who supports at the $35 level and above before kickoff on Sunday automatically gets the next level ups' thank you.
Help us out!
About Project Creator: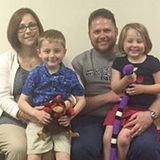 Vincent Esposito
I am a 39 year old father of 3. I discovered craft beer about a year and a half ago. My goal is very simple: to brew craft beer with a meaning. When I looked at my life, I realized I held four things close to my heart (hence the 4 Chambers): Faith, Family, Freedom and Friendships. Each beer I brew is done in honor of at least one of those four tenets.
I have applied for admission in the Amateur Homebrewers Association National Championships. In addition, I am listed with the NC Craft Brewer's Guild as an official "Brewery in Planning".
Link to the Project:
https://www.kickstarter.com/projects/1289372627/4chambers-brewing-craft-beer-with-a-meaning