Photographic artist Natalie Field poised to explore our Human.Nature. at Arteles Creative Center.
Natalie Field a creative image-maker based in Johannesburg, South Africa, where she works as a conceptual portraiture and fashion photographer. With several group exhibitions and awards to her name, Field has now been invited to further her studies into consciousness, our connection with nature and the transmigration of the soul while in residence at Arteles.
Field is a storyteller. Her narratives often take the shape of conceptual portraits, in which the subject is the framed focus; and surreal landscapes, in which they are simply the protagonist through whom she speaks. Her medium is photography, but her process would be described as photo-manipulation. Using digital technology as an essential tool in the creative process, elements from everyday scenes captured in digital photographs, scanned negatives and digitized objects are deconstructed, only to be reconstructed into new realities, creatively retouched to fabricate otherworldly scenes.
The Arteles Creative Centre is hosting the artists' retreat this October. Qualifying artists of all professions stay in the remote forested area of Haukijärvi in Western Finland. Jaw dropping panoramas, crystal lakes and intimate woodland scenes abound, providing a rich setting for artistic development. This tranquil habitat is an ideal environment for her new series of conceptual self-portraits entitled "Human.Nature." The artist will be exploring the evolution of humanity and our natural place in the eco-system, at a time when we have become detached from the environment and similarly from our individual humanity and community. Through her art, Field hopes to confront our idea of self, and our place in the world.
This is your chance to discover the profound beauty of Natalie Field's photography, as the art illustrating her findings will be available as a Folio Box: A limited edition box set of 10 mounted and signed small photo prints. This special edition run of 25 engraved boxes holding the full series of images created during the residency will only be on offer through her crowdfunding campaign, making it a coveted item for collectors. Other items available to backers include a Postcard from Finland, Customized Thank You, Brag Book and Photo Book. The latter will feature the artworks along with her notes on consciousness, descriptions of the process of creation and photographs of the Finnish landscape, fauna and flora.
For more information on how you can follow her journey and support her project you can visit her crowdfunding campaign on Indiegogo! All her perks have been set up to include her thoughts, experiences and artistic process with you through behind the scenes footage and short video blogs delivered to your inbox daily for the duration of the residency.
For more visit https://igg.me/at/natalie-field-arteles-artist-res/x/13675208
About Project Creator: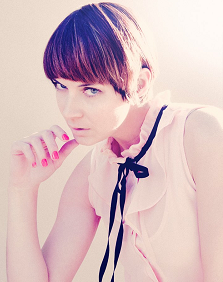 Natalie Field is a creative image-maker inspired by fashion and fantasy. She is based in Johannesburg where she works as a conceptual portraiture and fashion photographer, specializing in the art of storytelling. Known for her digital artworks created from deconstructed images, Field's latest interest lies with the spontaneity of in-camera effects. Through her art she explores concepts around consciousness, human nature and the transmigration of the soul; imploring viewers to reflect upon their own humanity.

To read more about this endeavour and see how you can support her project visit her Indiegogo Campaign at https://igg.me/at/natalie-field-arteles-artist-res/x/13675208.