Introducing the Tail Lights Rider safety system! Our goal is to make a horse/rider safety lighting smaller and more affordable.
We have changed how the world sees horses with the invention of the worlds first LED lighting safety system specifically for equine use.  We help horses and riders to Be Visible.  Save Your Tail.
Features:
Recharge - 9 hour run time on 4 hour charge
Variable Brightness - Low, Med, High
Keychain Remote
Multiple color choices - Red, Blue, Yellow, Green, Pink, White
Multiple Patterns - Flash, slow fade Strobe, steady on
2 light system - 360 degree visibilty
The Tail Lights Rider series comes with a sleek and compact front unit that attaches onto a breast collar, and a beautifully designed rear Tail Light unit with 4 strands of the most cutting edge LED strands made.
It is easy to use with a small hand held remote controlled keychain fob. The Tail Lights Rider series is the perfect way to just slap it on and go ride.
The Tail Lights Rider series attaches to the base of the tail with our patented Tail Lights tail wrap. Just wrap, clip and GO!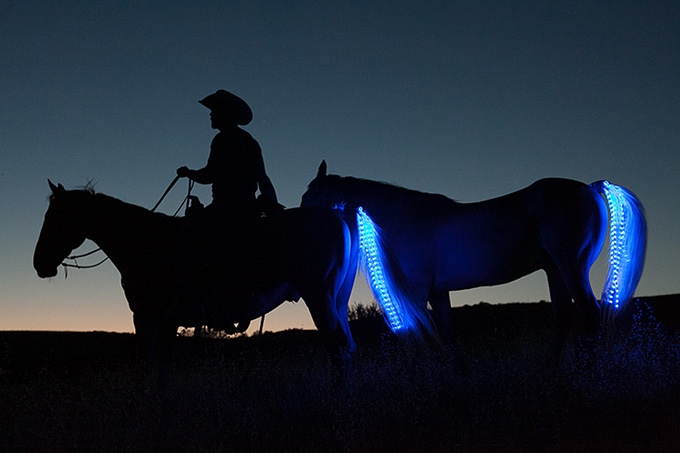 Ride Bareback? Just use the Tail Lights rear lights and clip the Tail Light front light to your belt or your pack. No matter what your riding style, Tail Lights has you covered.
Not riding on the road and want a different  color other than red?  Just like our Tail Lights PRO series, the Tail Lights Rider allows for changes of color to match your mood and your riding style.  Here are just some of the colors.
Our sleek and beautifilly design unit will compliment any horse and rider and most of all make you BE Visible and Save Your Tail.
Link to the Project:
https://www.kickstarter.com/projects/1653107857/tail-lights-rider-safety-system