Gangster: Style Never Sounded So Good - Premium, Affordable Audio and Cell Phone Products! A brand that gives back!
Las Vegas, NV – Locally owned Gangster LLC announced today that it will be launching its new G Series wireless headphones on Indiegogo. Indiegogo is a very popular crowd funding website aimed at helping companies bring their products to market. Gangster is a name brand electronics manufacturer bases in Las Vegas NV aimed at helping the youth of America while creating stylish and durable electronics.
Gangster officials expect this launch to help broaden the brand name and raise awareness of their products and message of the word Gangster. Chris Alan from Gangster stated we are anxious to be underway with our new line of headphones that are bundled with tons of features and style.
The Indiegogo campaign will permit Gangster to not only build their brand and awareness of their cause, but also start the mass production of the numerous products they offer, like the G Free waterproof cell phone case and the G Sol, solar power bank.
About Gangster and it's Products
Gangster started out in 2014 with the initial start of patents and trademarks by its founders Jeff Loomis and Chris Alan, through 2104 and 2015 the trademarks were approved and sent to registration and in early 2016 the first line of products starting with the G Series were designed and developed. Tragically in early 2016 Jeff Loomis passed away of a heart attack leaving Chris to continue the business. Chris with help from Jeffs son Dillon Loomis has been able to get the first set of products not only out od R&D but to working models and light production.
Gangster's Future
Now with Gangster having its first production models they intend to work with Indiegogo for the awareness and crowd funding to start a larger production scale and build their message and products. The G Series headphones being the flagship of the company will be superseded by a G Series pro that is under wraps due to some very special patented technology. Stay tuned for more.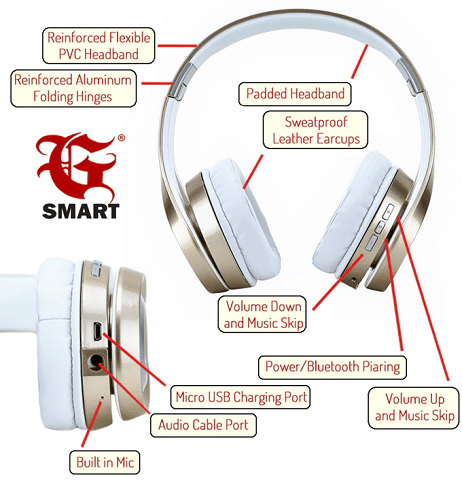 THE G HOUSE
Gangster® is for kids – Jeff always wanted it that way and we are committed to seeing it happen. G House is an eco-friendly home being opened in Las Vegas, dedicated to helping kids get off the streets and make a better life for themselves. The house is confirmed and key staff set. Leveraging successful, but different, group homes in Las Vegas, G House will open for kids in need. G House will provide practical education on employment and life skills while encouraging healthy diets and decision-making. G House will teach them to be Gangster tough to break the bad lessons they've learned in life. G House will be a model for every city in the United States and, with your help, G House will happen even faster.
THE G SERIES
The G Series™ is everything you want in over-the-ear headphones: HD stereo sound, Bluetooth connectivity, mic for telephone calls, 15-hour battery life, sleek styling at an affordable price. Style Never Sounded So Good™
G SERIES IS G LITE
NO MORE bulky headphones! The Gangster® G Series was engineered to be not only light weight but super strong while delivering the best audio quality with its 40mm drivers. The G Series was designed with you in mind: to be durable yet light and comfortable, to deliver superior sound quality with sleek styling and ease of use. Light. Loud. Stylish. They Are G.
YOUR C SERIES
The G Series™ headphones are made with today's latest technology and best components: Bluetooth 4.1, state-of-the-art molding, metal re-enforced hinges, superior stereo components with deep bass, G-EQ equalizer app to control sound levels, easy pairing controls, soft leather earcups. They are sleek and light with superior sound. Style Never Sounded So Good™
G FREE
The G Free™ Waterproof | Shockproof | Snowproof | Dirtproof smartphone case by Gangster®
Take your precious, expensive phone anywhere you like, the slopes, the trails, the beach, EVEN IN THE POOL! It is truly waterproof to 6M for 2 Hours!
Available for iPhone 5/5s/SE, 6/6s, 6 Plus/6s Plus and Samsung Galaxy S7 and Note 7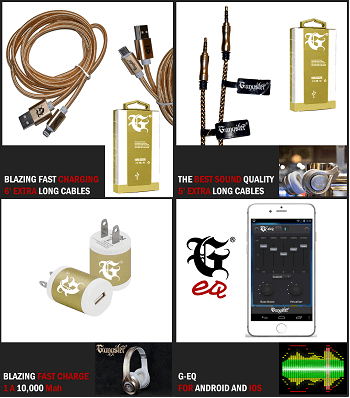 THE G CABLE
The G Cable is constructed using top-of-the-line OD 3.0 cables, premium metals and aluminum heads, for a blazing fast charge rate in a 6′ cable! Don't be tied down by the phone company's 3′ cable, experience a fast charge with the extra long G Cable! Style Never Charged So Fast™
THE G AUDIO 
The G Audio cable is a 5′ extra-long gold braid audio cable that can be used with any device that features an audio jack for wired in music.
THE G CHARGER
The G Charger is made to charge fast — with a 1A Core and 1,000 Mah you will have blazing fast charging speeds in a USB wall charger! The G Charger by Gangster! Style Never Charged So Fast™
THE G SOL
The G Sol is a unique solar charging battery. Charge your Gangster headphones, smartphone or cell phone, wireless speaker, or any other device using a USB connection. The G Sol features 10,000 Mah, full waterproof construction, and will fully charge with the energy from the sun! Style Never Charged So Good!
THE G-EQ
The G-EQ digital equalizer for iOS or Android. Built-in music player, full equalizer, bass boost, and more! Control you music with the G-EQ! Control your G Series headphones!

About Project Creator: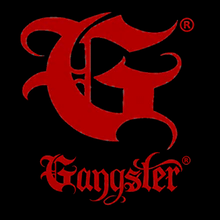 Chris Crane
We have been in product creation and branding for over 15 years! We landed on the Gangster line of products after working with other headphone and speaker products on development and marketing campaigns. After using and investigating various products, we know we could develop superior gear at highly competitive prices. Looking back on our lives and the hard road it took us to get where we were, "Gangster" was born!'
Gangster is a story, a lifestyle of never taking No for an answer and working your way through the obstacles of life. With all of this came the desire to create audio and cellular products that were not only super affordable, but Tough! This is Gangster today. We dedicate proceeds and time to helping at-risk youth get off the streets, build a future, and learn there such a thing as a good Gangster!

Link to the Project:
https://www.indiegogo.com/projects/gangster-build-a-brand-the-worlds-best-headphone-headphones/