Anthony J. Tinervia is the project creator wants to prove to the USA that a man with Asperger's Syndrome can create a dream of making an educational game board teaching the capitals of the USA without the pressure of answering the correct capital city. Keys to the Capitals is a prop plane race around the USA with each route determined by the pick of 50 states in Key Card deck. Alaska and Hawaii are the Wild Cards and no need to visit, pick another Key Card.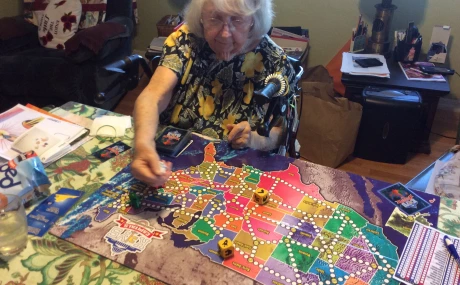 Anthony Tinervia says" My 5 great nieces in Tulsa have first built prototype and I sent it to them a month ago. They are addicted and aged 3-10 and played it 30 times in a 3 week period. The Impact will be great for our family, yes family since I was never good in my earnings history due to my condition. Most people don't understand Autism Spectrum Disorder and I want credit in my life that I am a successful inventor.
Keys to the Capitals will hatch into Keys to the World Capitals if I have successful team behind me. I am getting stronger with age. I never went to any type of Doctor in the 80's and 90's after a nightmare family dental visit in 1977. For the last 12 years I love going to all types and even a speech therapist. I am a full time caregiver to my almost 90 mother and proud of doing so. We have played the game over 200 times. I'm not bragging that I made a board game with perfect game play that even a 3 year old can play. The rules are on my YouTube video."
The most proud perk will put down is a percentage that goes to his favorite charity Autism Speaks.
About Game
Learn State Capitals and Flags while you have fun.
Ages 7 and up, 2-6 players, 45-60minutes playing time, fun for the whole family.
If the special effects dice match, do what they instruct, otherwise move the number of spaces shown on the regular dice.
The player with the most KEYCARDS at the end wins.
Have fun with friends and family build knowledge and memory skills.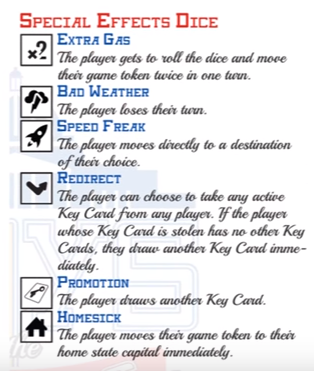 PERKS:
Pledge $1-Thank You A Simple thank you for your help.
Pledge $5- A 50 State USA Thank You Thank you for the support that will benefit all ages and children will love this game and learn capitals under no pressure by holding key cards for memorizing without being quizzed.
Pledge $10- Home State Frisbee his own design for your state's home capital on a Frisbee. You will be surprised with his creative designs as with his game board design. Free shipping!!
Pledge $25- Keys to the Capitals One quality board game that has a MSRP of $34.99 plus free shipping. This is a great game test played over 250 times since October.
Pledge $50- Game Board and 2 Frisbees receive a bright innovative game board teaching capitals plus 2 Home State Frisbees. Shipping on us.
Pledge $100- 2 Game Boards/4 Frisbees Two Keys to the Capitals game boards plus 4 Frisbees with States of your choices. Please let me know what states on contact page. Free shipping!!
Pledge $200- Keys to the Capitals/6 frisbees One case(6) to buy for Christmas gifts. 50% off MSRP of $34.99!!! Oh yes and 6 Frisbees of each state you want. Free shipping in USA $60 for Rest of World.
Pledge $500- Personal Distribution 5 cases 30 games to spread to schools, educational learning center, garage sales, flea markets, swap meets, huge families great for families. Value before shipping $1,050- averages out $16.66 per unit plus free shipping
Pledge $1000- Autism Speaks and Team Members I will personally donate $250 to Autism Speaks and use you as an assistant to spread the game board and add you on my website as personal assistant and ways to move Capital Keys, LLC to future game boards and supplies.
Thank you! Please spread the word and help this project!

For more information on the Keys to the Capitals jump over to the Indiegogo website for details by following the link below:
https://www.indiegogo.com/projects/first-manufactured-copies-of-keys-to-the-capitals-usa#/