SheNative is a handbags, accessories and apparel company dedicated to empowering Indigenous women in Canada. SheNative was started out of a dream.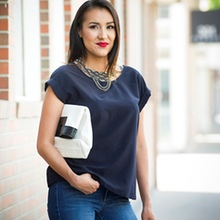 Devon Fiddler, founder and Chief Changemaker, started this company with the intention of empowering Indigenous women and girls. Devon herself has lived and felt the many struggles and stereotypes that many young Indigenous women feel. She almost started to believe that there was no hope, and that things can't change. But she found it in herself to beat the odds, and go against this stereotype. Devon graduated from the University of Saskatchewan with a Bachelor of Arts degree in Aboriginal Public Administration and has completed numerous leadership, economic development, entrepreneurship & business certificate programs.
Devon was in awe of some of the Indigenous entrepreneurs she watched flourish outside of her job, and was inspired. So out of her childhood dream of becoming a designer, her taste of entrepreneurship and her negative experiences growing up as an Indigenous woman, the idea of SheNative was born.
SheNative was to be a brand of her taste, minimal in design including an Indigenous cultural element. SheNative is a high-end fashion brand about women helping other women. SheNative donates time, energy and a percentage of profits to help empower Indigenous women and girls. SheNative has a secondary education mission to change publics' perception of Indigenous women and girls.
Campaign Motive is to take SheNative to the next level. Devon says "We are implementing feedback in terms of style, design, and our business model, by adding another tier of production. That's right…. we are bringing production to Saskatchewan, and continuing to work with our Toronto based manufacturer. This will allow us to save money on shipping, help cut costs of production, and employ Indigenous talent to produce our goods."
Achievements of Devon
Devon was awarded 2016 YWCA Under 29 Women of Distinction Award
Devon was selected amoung 5 social entrepreneurs for the Futurpreneur & RBC International Women's Day Social Media Challenge, and received $5,000 for her efforts
2015 Startup Canada Sustainable Development Award - Prairie Region 2015 Startup Canada Young Entrepreneur of the Year - Prairie Region
Devon was also among 20 entrepreneurs who represented Canada at the G20 Young Entrepreneur Alliance (YEA) Summit in Istanbul, Turkey in September 2015
1st Place winner of the Enactus 2015 Aboriginal Youth Idea Challenge
2015 "Win a Month on Morgaurd" Contest
Devon was named one of CBC's Future 40 under 40 in 2015
2nd place winner of the 2014 STC Mini-Bimadiziwin Business Planning Competition
Devon Fiddler has started a crowdfunding campaign with a goal of raising $20,000 to get their new collection to production. The raised money will be used for the following expenses:
To produce New Collection of 5 Designs - $20k
Unleash a New Design - $30k
Unleash a New Design - $40k
To bring back the original confidence clutch - $50k
To bring back the original Weekender Bucket Bag - $60k
TO start Fashion Truck in Summer 2017 - $100k
Exclusive Rewards
She Believed She Could So She Did Coffee Mug
SheNative T-shirt
Passion Coin Purse
The Gatherer Bucket Bag
Reimagined Confidence Clutch
The Thunderbird Tote
"Indigenous women are among the most disadvantaged women in Canada. Almost two-thirds of Aboriginal female victims under the age of 35. Most victims of spousal violence did not report the incident to police. Indigenous women make up less than 5% of Canada's population, but they are four times more likely to be murdered or go missing than other Canadian women. At SheNative, we believe in a triple bottom line. People, Planet, Profit. We not only want to empower, we want to create an understanding society. Let's change publics' perceptions surrounding Indigenous women. Let's hear her story directly from her and encourage a positive lifestyle" says Devon.
Please help raise awareness by sharing this campaign with others.

If you would like to make a donation to this project, you can visit her Kickstarter page:
https://www.kickstarter.com/projects/shenative/shenative-leather-handbags-that-empower-indigenous/