The Shoulder Relief Support System is uniquely designed to relieve shoulder pain at night for side sleepers.
The Shoulder Relief Support System is NOT a pillow. You can use your favorite pillow with the support system for more comfort. It is uniquely designed for SIDE SLEEPERS to sleep on either side and will relieve pressure from your shoulder, back and neck.
The wedge component elevates you just enough to fit your shoulder down into the pocket above the wedge alleviating the pressure from your body weight off of your shoulder. There are different densities of foam to fit your need. The soft shoulder support system is made for weights of 130 pounds and below and for those who do NOT have severe shoulder problems but are looking for more comfort when sleeping on your side.
The medium shoulder relief support system is for weights 131-249 pounds and for people who need more elevation and have minor to major shoulder problems. The firm shoulder relief support system is made for heavier weight of 250 and above and gives you the most elevation. Each shoulder relief support system comes with a custom case that is removable and machine washable.
The Shoulder Relief Support System must be slept on for 5 to 7 nights to become broken in and start fitting to your body shape. Order your shoulder relief support system now and get relief for a better night sleep!
About Project Creator: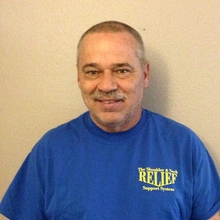 Randy Lewis
My name is Randy Lewis and I created the Shoulder Relief Support System because I was having severe shoulder pain at night due to arthritis. I have always been a side sleeper but was enduring many sleepless nights because it got to the point where I could not even lay on my side because of the pressure being put onto my shoulders no matter which side it was. My hope is that with this product reaching out to as many people as possible it will prevent side sleepers from having the many sleepless nights that I did before I invented the Shoulder Relief Support System.
Link to the Project:
https://www.kickstarter.com/projects/439170775/shoulder-relief-support-system