The High Performance Alternative that's Replacing sock tape!

Who actually likes having to go out and buy sock tape over and over again, season after season? Trying to make it look like you are not wearing something that everyone knows you are wearing because they are wearing it too! Sock tape is like hockey's dirty little secret.
What happens if we stop with the secret and start making a statement! Proudly wearing our team logo on real hockey equipment!
SH SokStraps save you time & money. Are stylish & much more comfortable. All while doing as good a job or better, than sock tape.
SokStraps are manufactured using durable materials, high quality commercial grade Velcro & an effective torquing system, that make SH SokStraps® fully adjustable, extremely durable & very easy to use. Superior Hockey SokStraps, They're just better.
We all know what it's like,
Running to the pro shop when you get to the game and realize there's no tape left, or trying to get some off of friends.
Sometimes wrapping too tight and cutting off circulation, sometimes too loose or not enough and you need to retape on the bench.
Hockey is one of those sports where focus is key! So let's keep your focus in the game & on the ice. Reach into your bag and pull out your always ready SH SokStraps® with your teams' logo on them. Finally, an affordable & quality piece of hockey equipment, worthy of being in your hockey bag. That's both easy to use & strong enough to keep everything in place, game after game.
Did we mention that they are customizable? Order sets for the team and not only will you never have to buy sock tape again, but your uniforms will stand out like never before as your straps will show your team crest on them.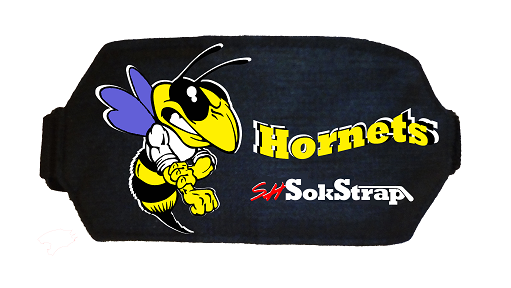 Another great perk of Sokstraps is that they will help make hockey a greener sport! Currently about 100,000 rolls of sock tape are thrown into local landfills all over North America every game night. We see that as a problem and want to be a part of the solution. We hope you will join us.
So what is the cost?
At retail you will be able to get SH SokStraps for less than $5 a strap! And you will see some AMAZING early bird prices when we do our kickstarter launch!
Superior Hockey has decided to launch their SokStraps project on Kickstarter. They are looking for $15,000 for help with manufacturing and bringing the product to market. They have got some awesome perks for those who help raise the funds.
How Do I Get Notified About The Project Launch
Very Simple. All you need to do is follow the below link and subscribe on Sokstraps website so that you can get notified when it is launched,
Your support is greatly needed! Please consider getting involved, at whatever level you can, and help "Sokstraps" get funded!
We need your help:
If you can't afford to donate, don't worry - there are plenty of other ways you can help. Please take some time to share our campaign across your social networks and encourage your friends and family to support. For more information, contact Brad Alder at: sokstraps@gmail.com