I'm making a Christmas album with original heart felt Jazz, R & B, Pop songs. Help me to help others.
James Everett…….
Hello friends, I am writing to you for two purposes; the first is to introduce you to what I've been working on, and the second is to request your support in bringing my new album  "A Timeless Season" to fruition.
Working with some of the Bay Area's top musicians on my very first Christmas recording project called a Timeless Season, which includes original songs as well as my own covers of popular Christmas standards. The completion is targeted for Mid August 2016 in order to generate buzz and release it in time for the holiday season. I also plan on producing a music video to accompany the campaign
Story of James…….
In 2012 James met with Smokey Robinson backstage in the green room at the SF Warfield theater. It was there when the Legends spirit, kind energy and encouraging words made james believe that he must create the world he want to live in through songs of inspiration, love and life experiences.
James has performed with some of the Bay Areas top musicians, including, Dee Spencer, Kelly Park, Kevin Wong and Lloyd Gregory to mention a few. His ability to deliver a variety of vocal acrobatics via his tenor / baritone / falsetto eclectics, allows him to simultaneously capture the moment and hold audiences captive. While he has appeared at the Chapel of Chimes, The Regis Hotel, Hawthorn Lounge SF, Wing Tip, Treasure Island Winery and Brick and Mortar, James still finds a way to deliver his music intimately and personally; making you feel as if each song were a blueprint written just for you.
James is also a talented songwriter and lyricist. He is currently working on his debut Christmas CD to be released in the fall of 2016 which includes original material and some familiar heart felt tunes. Get ready for an unforgettable treat as he brings back the Chic, The Cool, The Class and The Love.

About Project Creator: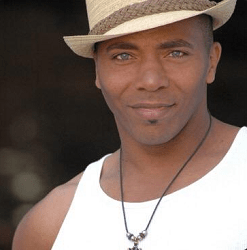 James Everett
A native of San Francisco, James started singing at the early age of four while sitting on a church pew as his sister (15) sang in the choir. Growing up his musical influences include the incomparable Donny Hathaway, Nat King Cole, Johnny Mathis, Frank Sinatra, Sam Cooke, Smokey Robinson, Tony Bennett and Luther Vandross. He also paid close attention to the likes of Sarah Vaughn's smooth riffs, Minnie Ripperton's simplicity of painting a picture while Aretha Franklin just simply revived souls.

Link to the Project:
https://www.indiegogo.com/projects/a-timeless-season-christmas-project-music/