A modern redesign to ancient stress balls using germ-killing brass. Luxury therapy balls for daily chi balancing.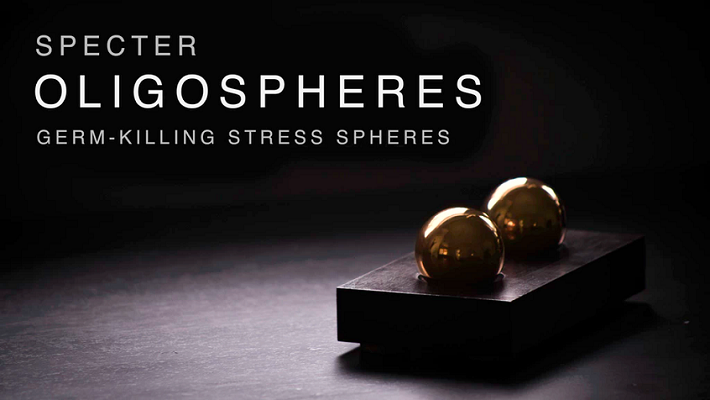 Specter Oligospheres were conceived for the creative, the professional, the scholar, and the aspiring. Their functionality inspires relaxation, their innovation inspires creativity, and their refinement inspires focus.
During the Ming Dynasty (1368-1644), a blacksmith forged two iron spheres for the Emperor of China. These gifts were to be used solely by the royal family to balance Qi* (chi). Inevitably a craze erupted as China's public learned of the newfound tools, creating today's stress balls. In turn came nearly a thousand years of thought stimulation, increased blood circulation, improved brain function, and stress relief.
*Qi is thought to be the 'air' or the energy coursing inside of you. It's the underlying bases for Chinese medicine and martial arts. Keeping it balanced is the key to living a healthy productive life.
Our goal is to revive this ancient tool with modern design and function to provide a solution to modern problems.
Specter Oligospheres offer an accessible escape to the chaos of everyday life. To help you tackle these challenges and increase productivity:
Hold the spheres, clear your mind, and begin rotating smoothly
Try not to make any sounds, keeping the movement as consistent as possible
Relax, reflect, unwind, reminisce, refocus, brainstorm
At Specter Co., we believe design must embody purpose. So we strayed away from the beaten path of creating mundane tools. Instead we constructed metallic art with such beauty that viewing alone instils relaxation, balance, and productivity.

About Project Creator:
Liem Nguyen
My name is Liem. I am a designer, photographer, and entrepreneur. My life revolves around productivity. Before this project, my goal was to be busy around the clock each day, and I had gotten pretty good at it. However, I soon felt chronic stress creeping in and my creativity faltering. I realized that I often forgot to take time for myself. I had forgotten the importance of reflecting, reminiscing, and unwinding in a productive lifestyle.
I created Specter Oligospheres not only with the goal of alleviating stress, but for them to act as a totem of elegance and a reminder to take time to relax while still moving forward. I hope these can be an agent of change in your life as they are in mine.

Link to the Project:
https://www.kickstarter.com/projects/679469308/specter-oligospheres-reduce-stress-and-increase-pr/