Make your walls Lego compatible in seconds! Reuse multiple times. Build art, shelves and organizers!
Make your walls Lego™ compatible in seconds!
Apply to walls, doors, dressers, refrigerators and more!
Removable adhesive allows for multiple uses on almost any smooth surface.
Build pixel art, cable organizers, small shelves and more.
Brik Tile
We've been developing and prototyping these 10″x10″ Brik Tiles (patent pending) for over a year. Each Brik Tile is backed with a temporary adhesive and can be applied multiple times to almost any smooth surface. Unlike traditional baseplates, Brik Tiles can be attached next to each other directly (without the need for gaps or spacers).
Not just for pixel art. Brik Tile can be used to organize cables, hang photos, display cards or virtually any type of small shelf. Apply at home or at the office!
Briks
We're also developing new Briks. These new flat 1×1 Briks include a small ledge at the bottom for simple removal. Briks are perfect for creating pixel art designs on Brik Tile.
Brik Clips
Brik Clips are perfect for hanging art work, photos, cables, keys and more. Every Indiegogo backer will receive a Brik Clip with every Brik Tile.
Structure Kit
The Structure Kit includes enough 2×2, 2×4, 2×10, 1×4, and 1×6 building bricks to build any one of the following at a time (assorted colors):
• Business Card Holder
• Pen Holder
• Small Shelf
• Mail Holder
• Sunglasses Holder
Brik Build
Use BrikBuild.com to design your own pixel art or browse hundreds of popular designs submitted by other members of the Brik community. Brik Build automatically calculates what Briks you'll need and generates a downloadable PDF template.
Brik Book
Brik Book was launched in March of 2015, and has been featured in Vanity Fair (Ultimate Gift of 2015), Oprah Magazine (Oprah's O-List), and others. Brik Book for Mac is available now. Brik Book for PC is coming soon and uses the same patent pending, temporary adhesive technology you'll find in Brik Tile.

About Project Creator: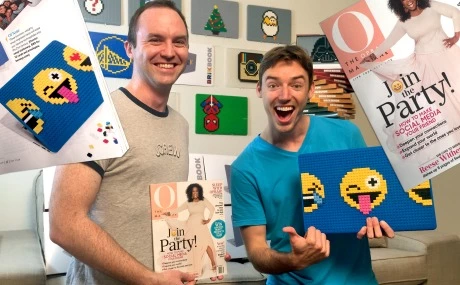 Jolt Team builds products that help the young (and young at heart) express their inner child. The company launched Brik Book (LEGO compatible MacBook case) on Kickstarter in 2015. Brik Book tripled its funding goal by pre-selling over $90,000 in Brik Books in 30 days. Brik Book was featured in Vanity Fair as an ultimate gift of 2015 and was listed on Oprah's O-List in May, 2016.
Jolt Team launched Brik Tile (make your walls LEGO compatible in seconds) in July of 2016.

Link to the Project:
https://www.indiegogo.com/projects/brik-tile-lego-compatible-walls-in-seconds-toys-kids/