Hi-Res Wireless Audio Adapter stream music simultaneously across as many as 10 different audio zones
Sonic Unity presents the NuPrime WR-100 (MSRP: $99 USD, $119 Euro), an easy to use, multi-zone wireless audio receiver powered by Qualcomm® AllPlay™, that allows you to stream music simultaneously across as many as ten different audio zones throughout your home.
The NuPrime WR-100 connects easily to your existing stereo or powered speaker, instantly transforming it to a state-of-the art, high-resolution wireless streaming audio device.
Stream studio master sound files up to 24-bit/96kHz throughout your home. Multi-zone or all zones together in party mode!
Steam your favorite music to the living room, kitchen, dining room, bedroom - the NuPrime WR-100 can deliver audiophile quality streaming audio to any place in your home.
Easy to use iOS and ANDROID
The NuPrime WR-100 is very easy to use with the NuPrime iOS and Android app.
The App will detect the presence of the receivers in the network.
Name the WR-100 receivers, e.g., "Living Room," "Master Bedroom," etc.
Select the music source.  In this demo, music is streamed from Spotify to the Living Room and to the Master Bedroom from local server.
Play the music and select the speaker.  Local music is played from NuPrime app and online music is played from Spotify app. You select the music and speaker from within Spotify app.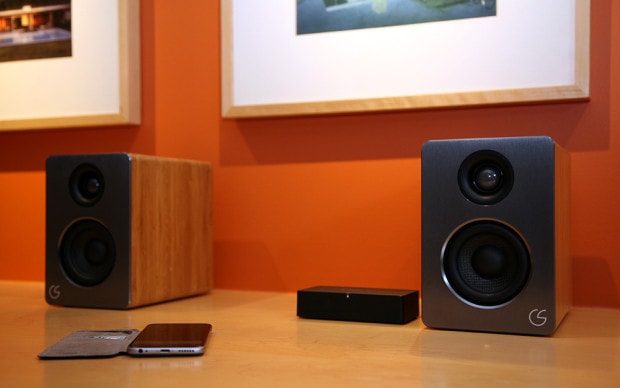 Features
Wi-Fi 802.11 a/b/g/n dual band 2R2
Decode high resolution music formats 24-bit/96kHz
Party Mode (sound synchronization)
Over-The-Air firmware upgrades from internet
Select between WPS and Direct mode / Reset
WPS & Direct Mode (AP mode)
LED Display: One multicolour LED
(Yellow: Booting, Flashing White: Connection, Stable White: Connected)
Internet radio service (Tune-in service via companion App)
Accessories: USB-A to micro USB cable 80 cm.
Power requirement: 5V - 1A (via AC adapter not included). Compatible with standard 5V USB charger and NuPrime digital port.
Size: 130 (W) x 80 (D) x 30 (H) mm
Requires usage of Android or iOS tablet/Phone
Celsus Sound SP One
Add the Celsus Sound SP One (MSRP $649 USD) active speaker system (Bluetooth and Line-In) in natural bamboo and brushed metal finish for incredible sound quality in a compact wireless package.
"Spacious sound stage, commanding bass, exemplary coherence and musicality"
Premium-quality, naturally finished bamboo
Carbon-Fibre Woofer and Tweeter with Aluminum Waveguide plus premium connectors and parts used throughout
Features
Enclosure is made of a dense, premium-quality, naturally finished bamboo
Carbon Fiber Woofer with wave reflection structure and custom-designed magnet together produces 55Hz deep bass and the most coherent sound.
Soft dome, horn-loaded tweeter for a wide dispersion of highs
A single custom capacitor replaces complex crossover for a more detailed and vivid sound.
Double cavity cabinet design allows for deep bass and powerful dynamics.
Optimized active speaker design
Out Standing Sound Quality
The WR-100 has been designed by NuPrime Audio and D-Stream Audio. NuPrime Audio is the designer and manufacturer of some of the best audio products available on the market today. NuPrime has been awarded four, 2015 - Product Of The Year Awards from The Absolute Sound and SoundStage! Network, an unheard-of achievement in high-end audio.
Crowdfunding Price:
1st Mover single Unit WR-100
One unit of WR-100 at the lowest price for 1st Mover. That's 55% discount! We reserve the rights to
1) Bill (with your permission) for additional shipping for orders that are coming from countries at remote location or with very high shipping cost.
2) Refund your order if your location is in a high risk area with respect to lost shipments.
About Project Creator:

Rick Hopkins
Sonic Unity CEO Rick Hopkins, loves design, music and the reproduction of studio and concert recordings. As a lifelong audiophile, musician and designer himself, he has strived to create new and unique products and experiences throughout his career. Rick's experience and passion for sound reproduction, is unique. As a designer, Rick has created concert events for Bryan Adams, Rush, Van Halen, Spinal Tap, Rod Stewart and The Rolling Stones.
Jason Lim
Co-creator,  CEO of NuPrime Audio
I started my career in the USA as an engineer designed two microprocessors at Motorola and Sun Microsystems, and developed three enterprise class software at Oracle and Netscape.
In 2005, I co-founded and serve as CEO of an audio company called NuForce. NuForce has gathered numerous awards and accolades from audio press worldwide, notably Wired, CNET, New York Times, Sound & Vision, Stereophile and The Absolute Sound. I left NuForce in 2014 to start Heap Venture Pte. Ltd.
Link to the Project:
https://www.indiegogo.com/projects/nuprime-multi-zone-wireless-audio-system