I have been travelling and performing for over ten years - playing over one hundred shows a year. My band and I tour throughout Australia, Canada, Europe and USA- performing at bars, cafes, restaurants, open air concerts, festivals, wine bodegas, hay barns.. you name it!
Our touring is really rather budget - we all pack into a van and off we go. The costs of touring are huge as an independent artist - this year alone I will spend over $20,000 on flights, nearly $10,000 on hiring cars and over $5000 on petrol. I'm so fortunate that my amazing band mates also love what they do and are happy to do this for a small amount of money and the 'experience'.
We work really hard on tour - driving on average about 7 hours a day, before getting out of the car and instantly setting up and sound checking, then checking into our accom, eating quickly and then going on stage to perform to all sorts of crowds. We do love what we do. But it is tiring both physically and emotionally
 and financially.
I have spent over $200,000 on recordings alone and I have produced 6 full length albums, a number of Eps and a couple DVDS. I will keep doing this as long as I can - there is a giant ladder that I am trying to climb
 and the journey is really incredible. I do count myself lucky to do what I love, but I also know I deserve this with the huge amount of work I have put into my career for over a decade .
About Project Creator: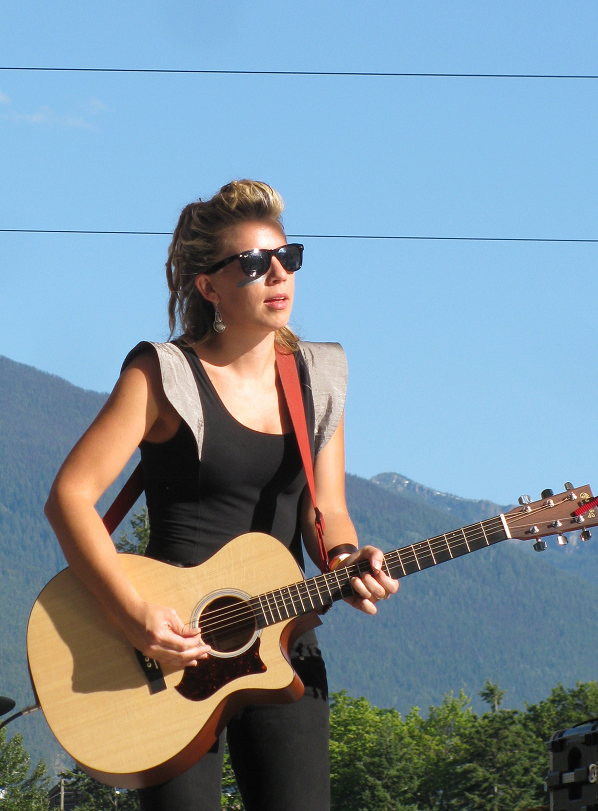 Toby Beard
"Toby – whose voice seems to know no bounds fronts the one part orchestra, one part bonfire jam, one part circus with ease
"
West Australian Blues/roots/indi artist Toby is so much more than your average singer-songwriter. She powers through each live performance with her own lyrical talent and fierce, dynamic vocals, with audiences revelling in the genuinity and honesty of both her songwriting and her performance. Her compelling vocals and the way in which she captures her audience can't be explained but just needs to be heard and seen. Her live performance truly is a treat. Toby is passionate, raw, fun and powerful, with a mix of soul, blues, folk, rock and a splash of gypsy hick.
'Music is a cold beer on a sunny Sunday afternoon. It's a hot chocolate warming you on a winters day. It's like sky-diving over the Alps, it's the heartbreak, the falling in love, then the heartbreak again. It's the excitement of really feeling emotions in their most raw state. It's travel, it's culture. It's the one thing that can really bring us all to the same level. It bulldozes down all barriers. It's the soul of what i do.'
A prolific and powerful artist, music has always been Toby's driving force. Toby grew up in Western Australia and bases much of her work here, with strong ties in Canada, the USA and Europe, most notably The Netherlands where her mother's roots lie. Toby has recently gained her Dutch citizenship and plans to spend more of her time in what she calls 'her second home'. Over the past seven years Toby has captured the hearts of 1000's of audiences across the globe. In the meantime, she has 5 albums, 2 live DVDs and several (hard to come by) Eps under her belt. Between her touring and recording, it is a rare occasion that she will spend any given time in one place, setting her up for some great song writing inspiration. Toby finds her anchor in her family, her life on the road and the people she meets and this shows in her song writing. She was born to perform.
Her new album 'Nobody Told Me', was recorded at Bear Creek Studio in Seattle with acclaimed producer Ryan Hadlock (best known for his production work on platinum selling album 'The Lumineers', by The Lumineers) and engineer Jerry Streeter. TOBY was honoured to work with the likes of Portland based Joe Plummer (Shins, Modest Mouse and Cold War Kids), bassist Adam Trachsel and violinist Lauren Jacobson (both performed on the Grammy nominated album The Lumineers), and Josh Neumann on cello (Brandi Carlile, Macklemore and Ryan Lewis). The Shins bassist Yuuki Matthews, and Seattle based players Charles Wicklander (keys) and Kimo Muraki (electric guitar, trumpet, banjo and backing vocals) also make their mark on the album. Perth's own Daryl Eagle plays the haunting electric guitar line in the heart string puller, 'Three Days'. The album is a result of a few life affirming years for the artist. The songs are simply Toby's take on life on the road, travel, dreams, love in all it's forms, independence and everything in between. The album will be released in Australia in early 2015, and marks a real shift for the artist.
Toby's eclectic touring life sees her continue to spread her infectious musical vein across the globe, playing everything from sold out headline shows to impressive festival slots and supports, from barnyard gigs to canal boats and intimate bodegas for a lucky few. Her reputation as a must-see, emotionally charged live performance, intertwined with songs guaranteed to get you moving, precedes her wherever she plays.
"The group's charisma and strong dynamic crafted several invigorating numbers, including an eclectic mix of hits and new tracks. Synchronising acoustic, electric and bass strums, Toby relished in her music's glorious glow. Vibrating the modest venue, the group's hearty and boisterous set made for a positive aura. As the mosh pit steadily grew, Toby enlivened the audience with explosive guitar riffs and her enthusiastic presence. Toby herself is worth the price of admission and then some. Enthralling everyone from drunken larrikins to timid critics, the singer's powerful vocals established her immense talents. Her enthusiastic stage moves and blood-sweat-and-tears approach created a flawless Saturday night vibe, particularly during tracks Last Night and Crash Landing." (MUSIC MAGAZINE November 2014)
"This track (STOLE THEM AWAY) demonstrates Toby's gift for storytelling, but how she manages to convey her narrative so well, is through her fantastic vocal delivery – she's incredibly passionate and emotive in the way she tells her story, and it's amplified by some fantastic country-rock driven guitar work". Kane Sutton (DRUM MEDIA 2014)
"What sets Toby apart from other performers mining a similar vein is her infectious energy, a kind of worldly appreciation of life that makes even her most melancholy songs thrum with a kind of joyousness." (X-press Magazine January 2011)
"It's a gifted singer-songwriter who is daring enough to remain this raw. It's the same reason why Toby's audience has found such a home in her music" THE WEST (Sept 3 2010)
Link to the Project: