Hi everybody my name is Ebony, I am 13 years old and I am exited to talk to you about my chosen sport go-kart racing, it's a fantastic sport where I can test my skills and push myself to the limit, yes it's true motor racing is primarily a sport dominated by male competitors however it is one of the few sports where everybody can compete on equal ground.
It all started earlier this year when my little brother Liam received his first go kart, seeing him race around the track sparked an interest I did not initially realize I had. My parents saw my excitement, so I was offered a chance to drive Liam's kart after I received my practice license. I was surprised to hear a number of encouraging comments from the start even from fellow racers on how fast and smooth I was.
Their kind words and encouragement increased my desire to own my own Kart, so I began searching the Internet and found the one for me, it was perfect. With the help of my dad we drove three hours on a Saturday morning to pick it up.
We went away for a few days with mum during the Winter school holidays and when we returned I found my dad had stripped and cleaned everything, removed the old stickers off the kart and replaced them with new ones. Dad had also purchased and fitted a secondhand Yamaha J engine and everything else that it was missing ready for me to take to the track. It was beautiful although Mum wasn't happy Dad had built it in the lounge room because he said it was too cold in the shed.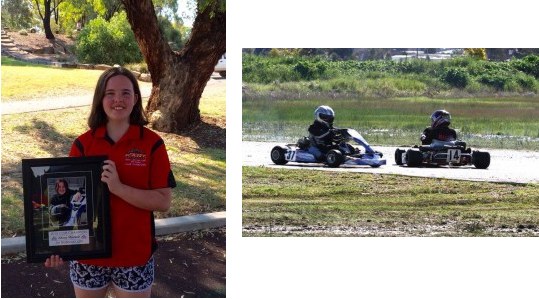 After finishing the years racing for 2015 I'm ready for my next challenge, which is why I am asking for your help; I would like to push myself further next year to larger events and more opponents, which means a lot of changes to my Kart to comply with the new 2016 rules. With your help I know I can take my kart to the top.
When we had our Christmas break up I was shocked to learn that I had won the Club Championship for Junior National Light 2015. Wow it was a surprise and I was left speechless……which is unusual for me.
My parents are very supportive of my dreams and have vowed to try and match everything I raise dollar for dollar. They have already contributed so much this year to get me where I am today. I have promised in return that my racing will not affect my schoolwork. My school report this year confirms my commitment to my goals. Mum and dad were very pleased with my results.
The more people I can get on board the further I can go, any support will be a big help in assisting me to push myself to the limit.
Although I hope to raise the required funds, I do understand that I may fall short of my goal however even the smallest donation can be a big help and will be very much appreciated.
Link to the Project:
https://ozcrowd.com/campaigns/its-a-long-way-to-the-top/