Velvet Waters, waterton-jasper. A solo show of my panoramic photography at the Agora Gallery in Manhattan NYC.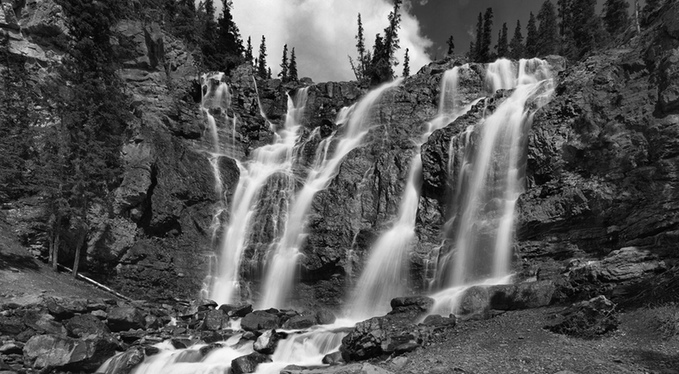 The photographs in my latest portfolio Velvet Waters waterton-jasper represent my major body of work over the past 5 years. My process is with digital photography mostly in the panoramic format, made by seamlessly stitching together many individual detailed images to create one extremely high resolution giga pixel images that can be printed very large. The images are beautiful and its very important that these images are created and printed in the much more environmentally friendly process of digital photography and digital printing.
The main purpose of this portfolio is to show the great beauty and grandeur of the great canadian rockies watershed areas. The greatest natural resource of Canada is fresh water, we have more fresh water than almost any other country and I'm obsessed with making awe inspiring art work from these areas. Prints will be made with Hahanemule Bamboo fine art paper which is made from natural bamboo fibers. This paper represents my commitment to environmentally friendly materials in my process; we artist must try and our best to leave the planet as untouched by our process as possible. Being able to show this portfolio in a solo show at the Agora gallery in the most prestigious art district in the world, NYC would be a fabulous opportunity!
My panoramic photographic portfolio:
Velvet Waters, waterton-jasper has been accepted for a solo exhibition and sale through the Agora Gallery, located in the prestigious Chelsea district of Manhattan, which some people believe is the most important art district in the world. The extreme high resolution of these digital photos means they can be printed very large (6-20 feet wide) and not loose any image quality, in fact, the bigger they are the better they look.
The show features color and black and white prints taken from the beautiful locations of Waterton Lakes National Park and Jasper National Park in the province of Alberta, Canada.
The Process, why these photographs are so special.
The prints, most of which are in panoramic format, were made using a regular high resolution digital camera but extremely high resolutions are achieved by making each image not of one digital shot but by combining multiple, overlapping detailed shots into one exceptionally high resolution master file. Some images are made using over 60 individual, detailed, close-up shots. Special computer software is used in post production to compile the individual images into one very large final seamless Giga Pixel image.
The result of this process is the perfect meshing together of individual images to achieve digital files that can be printed to huge sizes and still maintain their incredible resolution and beauty. These images can be printed over 20 feet wide and still maintain the detail and richness required of large format mural prints.
About Project Creator: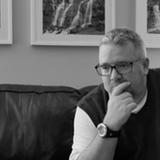 My name is steven webster. I have a bfa in photography from the university of lethbridge alberta canada. My recent portfolio Velvet Waters waterton-jasper is a collection of high resolution panoramic b&w fine art prints that has been accepted for a solo show at the Agora Gallery in NYC. A solo show in NYC can be very expensive so I'm raising money on kickstarter to produce the solo show.
Link to the Project:
https://www.kickstarter.com/projects/1336110369/velvet-waters-waterton-jasper-a-solo-show