Art/Craft Scholarships for self-helping therapy, Mental health education and Disability reform model
Art With A Purpose Cooperative works across 3 areas - Creative Self-Help, Entrepreneurship, Social Reform. Our Mission - Promote people who are economically challenged to be independent & creative in their own self-helping therapy and strategies for sustainability. Help us provide 50 craft/art scholarships for our Art Safari workshop for 1 year, educate the people in the state of Minnesota about the current Social Security Disability system inequities & create a working model for change.
HISTORY:
In 2011 with the help of a friend I started the business Community Funding Solutions, LLC, a grant writing company that specializes in helping small nonprofits and start-up businesses get grants and small business loans for their projects. I have been writing grants and helping people achieve their dreams since 2002. Before the non-profit world I spent 12 years working in the Art/Craft Industry as a store manager.
In 2015, I did something stupid. I went off of my medication because I wanted to fit in and be "normal" like everyone else.  Some people should just not be off of their medications (I am one of them).  Short story is, I ended up opening a store when I was manic and changing the name and adding to the focus of my business. It is now Art With A Purpose Co-op, a multi-shareholder cooperative for small business start-ups, nonprofits, and socially challenged individuals like myself. We put a special emphasis on creativity, community and working to educate and build social reform of the current government systems for people with mental health disabilities. I have 2 co-partners each one of them suffers from PTSD or Depression  and we all have a hard time conforming to a "normal" job.
On SSDI I am able to earn up to $800 per month and keep my benefits. If I make $801 I lose my insurance and cash benefits.  The problem is that I can't support my youngest child on $801 or pay for my meds, my nurse and my bi-weekly psych visits and doctor appointments, my rent payment, and all of the bills associated with life.

About Project Creator: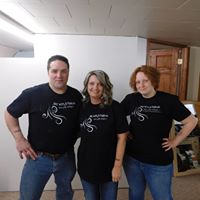 Sheila Barsness
Hello Everyone!  My name is Sheila Barsness and I am disabled. I suffer from Bipolar disorder and PTSD. I am currently stuck in the welfare system known as SSDI (Social Security Disability Insurance). Every month more than 14 MILLION people receive disability benefits from the United States Government.
I was so relieved when I was awarded disability benefits because I would be able to take care of my family since I was literally unfit to work for other businesses.

Link to the Project:
https://www.indiegogo.com/projects/art-with-a-purpose-for-a-purpose/