A magazine by travelers for the off the beaten path type of traveler to share experiences, insight wonder and inspire wanderlust
I am a nomad. I have been for a long time… even before I knew what it meant. I know there are other nomads out there. Other dreamers and doers.  Those that want to get up and GO. I decided to create a publication for those wanders, those travelers that are like me and want to get up and GO.
GO Places Magazine is a new travel magazine for the off the beaten path type of traveler meant to inspire wanderlust to those well traveled and those not! It is a magazine for travelers written by travelers.The magazine offers new and unique perspectives from experienced travelers along with tips, reviews, and suggestions to make the most out of your travel experiences. This is a magazine meant to inspire wanderlust and offer encouragement to get up and GO Places.
Writers are already submitting articles, photographers are already submitting photos. Your funds are going to help pay to launch the magazine that includes graphic design, page layout, and editing services as well as the printing costs of this inaugural issue.
Risks and challenges
The risks of publishing this magazine are few. A team is in place and the publication is ready to move forward. The only risk is that the publication of the second issue and all future issues after that rides on this success of this inaugural issue. So a business truly can't be built until I get this issue off the ground.
About Project Creator: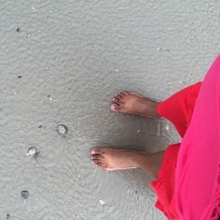 Christina Brooks
I am a recently divorced Nomadic Mama to three beautiful Jr Nomads. Life has had it's twists and turns but has recently offered me some amazing opportunities to travel the world and I am taking full advantage of it. It is the cure for my wanderlust and allows me to live up to the title of nomad.
Link to the Project:
https://www.kickstarter.com/projects/758796809/go-places-for-travelers-by-travelers