WAP is the name of the world's largest database aggregating information on Calabrian ancestors.
BEGINS 
"Do not consider yourself to be superior to those other branches, you do not support the root, but the root supports you" - Romans 11:18.
My maternal grandfather, Saverio Milione, used to reminisce about that evening when, through his window, stared at the street lamp post, waiting for his fatherFrancesco to return from Chacabuco, Uruguay.
He knew his father would take his family to South America, and could already picture the arrival at the Montevideo port.
But, in truth, Francesco no longer wished to sail across the ocean: over time, the ship that was once the symbol of a new, more rewarding life, had become for him tantamount to a meat grinder for countless unfortunate souls; he never forgot the lifeless bodies of those who, having succumbed to the daring journey across the ocean, were thrown overboard, as mere shark feed.
His cousins, aunts and uncles stayed put in Uruguay and Argentina, but he never went back to Chacabuco. My mother's other grandfather, Biagio Rizzo, never left his Calabria, though Costanza, Bartolo and many other brothers and sisters did for sure, eventually heading off to Brockway, Pennsylvania, in the United States.
OUR PROJECT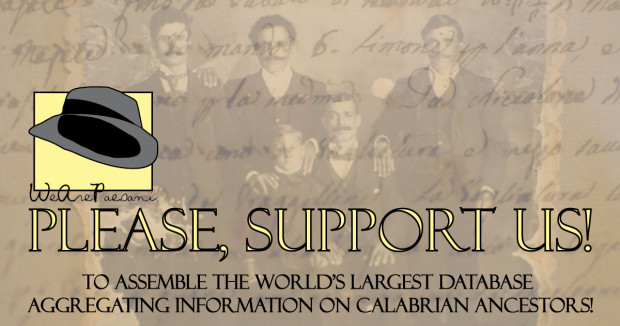 We are two brothers, Mario and Marco, who, through our Association N.9, have committed to helping our compatriots scattered throughout the world to find their roots.
It's time that everyone knows their roots. WAP (WE ARE PAESANI)  is the name of the project by which we are seeking to assemble the world's largest database aggregating information on Calabrian ancestors born from 1800 to 1910, as yielded by copious data housed in public archives (+ 200,000 records): birthdates and birthplaces; accurate addresses of ancestors' homes and geolocation on map; their occupations; wedding dates; relatives and descendants; any additional relevant information contained in available records (time of birth, names of midwives, names of witnesses to a birth, etc.).
As far as we are concerned, this project will require our unwavering commitment and great expenditures in terms of time, money and energy that only you, dear PAESANI, can help us offset by providing some financial support. Thank you!
About Project Creator:
Alessandro Mario and Marco Toscano,
We are two brothers, tourism and cultural heritage managers Calabria based as well as professional genealogists.
Link to the Project:  
https://www.indiegogo.com/projects/wap-the-largest-database-on-calabrian-ancestors