"8"; the debut EP from Yuneer Gainz is a "Hi" in the form of story telling, honesty, and melody; all from the front seat of his car.
What is "8"?
8 is the first offering from independent artist Yuneer Gainz. This is a time capsule of reflection, fears, courage, pursuits, and wishes from the front seat of his car. This project was created while Yuneer was not only interning at a studio in New York City for 6 days a week, but also living out of his SUV.

About Project Creator: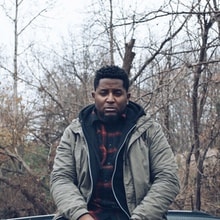 Yuneer Gainz
Kay Minton, professionally known as Yuneer Gainz, is an American rapper, singer, songwriter, record producer, audio engineer, and visual treatment creator born in Brooklyn, New York City and raised in New Jersey. He first garnered recognition for his participation on BET's 106 & Park Freestyle Friday competition as a competitor on the show. He later rose to prominence as a rapper, releasing free music produced by HipHop heavy weights Swizz Beats,
Chuck Thompson, Neo Da Matrix, Bangladesh; touring along side Jay Z's for his Blue Print 3 Tour and Reflections Eternal (Talib Kweli and Hi-Tek) before touring in Europe on his own as an independent recording artist from 2009 to 2014.
Pursuing perfection, Yuneer began tracking, mixing and producing unsigned artists which took him from working local New Jersey studios to working in New York City's premier recording facilities, Quad Studios, Premier Studios, Platinum Studios and his preferred work space, BlastOff Productions in 2015. As an assistant to Nick Cavalieri and Josiah Hendler, Yuneer has been able to work alongside some of music's legendary performers including Grammy Award Winning Jazz Pianist Robert Glasper and Tariq "Black Thought" Trotter from the Grammy Award Winning Hip Hop Band "The Roots".
With the knowledge and skills he obtained working for others, Yuneer Gainz is now releasing his first body of work in the form of an EP titled "8". "8" stands for the amount of months he has spent working behinds the scenes of music making. His music consists of rock/RnB/hiphop/jazz melodies, modern and vintage rap cadences, and random voice inflections. Most of his songs contain story telling lyrics and combinations of singing and rapping.

Link to the Project: