The Axtremex Micro SSD is an incredibly small, featherweight and super fast external drive. It suits anyone who needs speedy storage, cutting out the noise, bulk and fragility of traditional drives.
The Axtremex Micro SSD is an award winning micro, portable, high performance external solid state drive with the latest rapid USB 3.1 Gen2 and USB Type-C technology.
The Axtremex Micro SSD is designed in a micro form factor that is lightweight, durable and convenient to carry and use.
Offering blazing data transfer rates of up to 540 Megabytes per second Read Speed and up to 520 Megabytes per second Write Speed, The Axtremex Micro SSD outclasses all of its close competitors.
Put simply, the Axtremex Micro SSD is a slim, durable and powerful portable drive.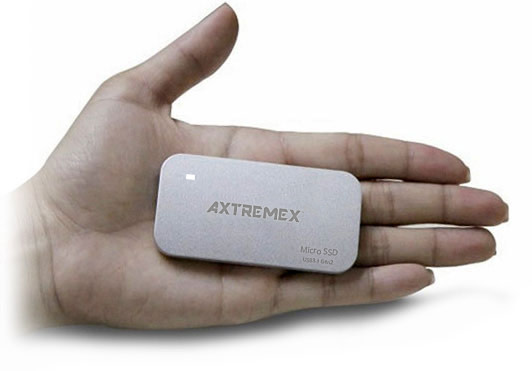 The Axtremex Micro SSD internal components are protected by premium zinc housing, complemented by a slim, portable and lightweight design and finished with a sleek outer layer.
Key Features:
USB 3.1 with backward compatible support
Type-C reversible connector
Easy to setup: plug & play on any PC or Mac
Fully compatible with Mac OS X and Windows OS
Blazing fast performance data transfer; UASP supported
Safe and strong zinc material housing. Available in Silver, Gold and Rose Gold.
Lightweight and portable design. Ideal for home, office and travel
USB 3.1 and Type-C
Axtremex Micro SSD features USB 3.1 Gen 2 and Type-C connector. USB 3.1 provides data rate up to 10Gbps and is 2x faster than USB 3.0 (5Gbps). Micro SSD with USB 3.1 will also be backward compatible to USB 3.0 and 2.0 via standard USB port. With Type-C connector, you will be able to connect a Type-C cable without worrying about the plug-in orientation.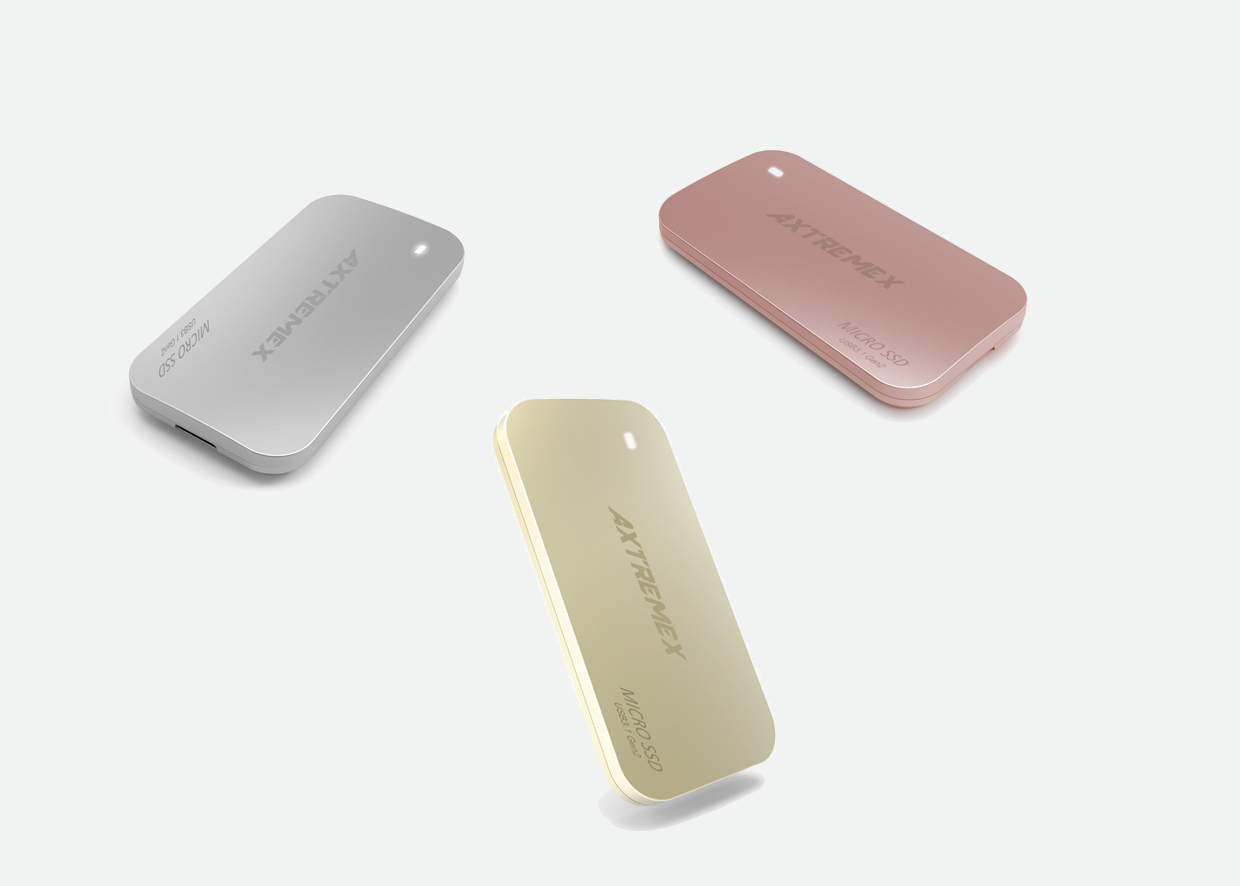 Solid State Disk Inside:
Micro SSD has built in SSD. It contains no moving parts and is resistant to shock and vibrations. Micro SSD uses market leading SSD technology to ensure it provides stability and best performance.
Performance:
Micro SSD has been tested in our lab using Windows 7 / 8 and Mac OS X operating systems. The device was tested on different platforms and benchmark tools such as CrystalDisk Mark and Blackmagic Disk Speed Test.
Performance will vary depending on host device and the SSD used. For best performance, the Micro SSD must be connected to a USB 3.1 port.

Axtremex technology is young UK based company that is engaged in innovative product developments and supply of IT electronics products. We have a team of talents in the UK and aboard who have wide range of skills and product development experience with major industry partners.
Axtremex is a energetic company in offering customers a range of storage products such as memory cards, solid state disk, multifunctional card readers and plug and play flash drive.
Link to the Project:
https://www.indiegogo.com/projects/axtremex-micro-ssd-usb-3-1-usb-c-external-drive-3#/