Track and improve your motorcycle and motorsport performance. Create videos with data overlays. Share and publish your stats.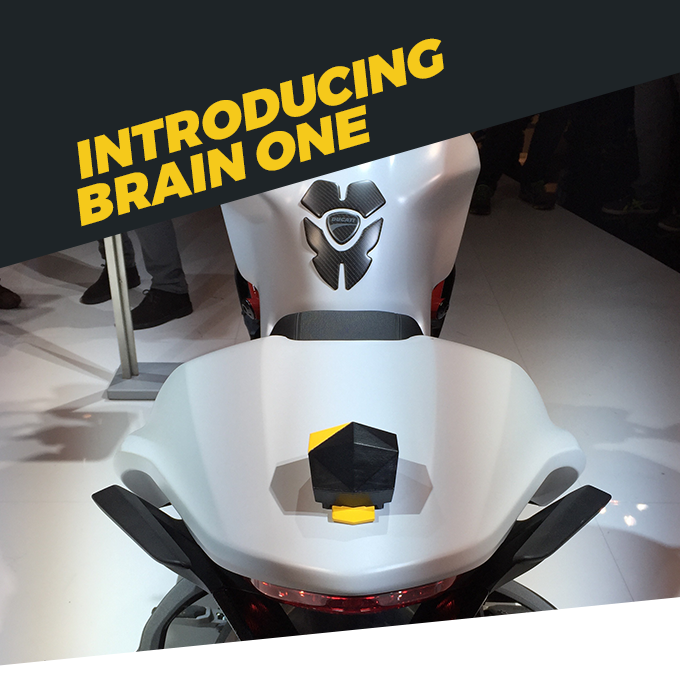 BRAIN is an Italian innovative startup that launched the first smart telemetry device for motorsports and action sports. BRAIN presented for the first time BRAIN One on Kickstarter for a crowdfunding campaign that will enable it to open up to the international market.
" In recent months, the project is no longer just an idea , but we have reached the final stage of product development - explain the founders , Simone Grillo and Timothy Ziccardi - Now we just have to do the finishing touches and put into production the device . BRAIN One will be ready and will be sent in the hands of customers starting from May 2016. "
BRAIN One , specifically, consists of a wireless device that contains several sensors dedicated to the world of extreme sports , in particular motorcycling . BRAIN will allow all motorcycle enthusiasts to feel professionals of the two wheels ! The device , in fact , measure all metrics for a ride on the track or on the road (speed , lean angle , g-force , engine speed , gear engaged , trajectory, lap time , and more ) and it is also able to monitor constantly heartbeat and other important parameters of who is riding the bike. In addition to measure performance related to the motorcycle world BRAIN One and 'also capable of detecting a possible emergency situation thanks to an algorithm that senses if the bike and ' stops in a horizontal position on the ground or if there are accelerations typical of an accident in that case an alert signal geo will be ' sent to the favorite numbers .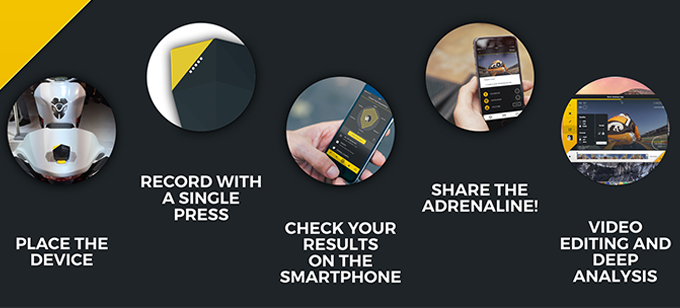 BRAIN One Features:
Standalone:
Completely wireless, BRAIN One is simple in that it can stand alone as a telemetry device and works with a variety of action-packed sports. This small device attaches to your sport vehicles without any cables or wires. Just attach it to your ride and you're all set!
Chock Full of Sensors: 
BRAIN One's innovative design contains a range of sensors, including GPS+Glonass, thermometer, microphone, barometer, 9-axis inertial sensor and more, that measure all aspects of your action sport performance-from speed and bending angles to lap time and elevation differences. BRAIN One can also measure trajectory, cornering, acceleration, braking and G-Force.
Create Action Packed, Stat-Overlaid Videos: 
Extreme athletes work in extreme conditions. We've designed BRAIN One to be waterproof, shockproof and compatible with any action cameras like the GoPro. With our BRAIN VIEW software, you can create action-packed videos overlaid with your individual performance data.
Affordable:
Most telemetry devices cost you thousands of euros, but BRAIN One offers professional quality without the hefty price tag. The retail price for BRAIN One is more affordable than most products on the market at only €299 retail price.
Gps Safety Features:
BRAIN One has your back. We realize your extreme sports feature challenging courses, winding trails and rugged terrain. Our GPS feature includes safety alerts to help protect you from potential accidents. Thanks to an embedded sensor, the device can detect strange positions similar to those prone to causing accidents. And, in case of an accident, BRAIN One will send a message to preset numbers with your GPS location.
Race Your Friends:
You can control and share the results of your sessions via your smartphone or smartwatch and even create your own events or challenge friends. Just download the free BRAIN One app from Google Play or the App Store to access performance data, set up challenges, create events, check improvements, pull up records and more. Once you're connected with fellow riders on the app, you can also choose to be updated on your standings among friends.
Incredibly Smart:
BRAIN One is an incredibly smart device with computing capabilities. All of the sensors work together to improve each other thanks to a sophisticated sensor fusion algorithm. Our team worked hard to deliver you the best data interpretation from the sensor signals and provide the most meaningful numbers.
Open API:
Use BRAIN One's open API to develop new applications for any sport. With BRAIN One, your possibilities are limitless - create, develop, perform and share your information the way you like it. Use BRAIN One's open API to develop your own sports application. Whether you love motocross, go karting, snowboarding or watersports, BRAIN One unlocks infinite possibilities for your favorite sport.
About Project Creator: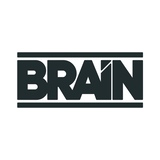 BRAIN, Rovereto, Italy
BRAIN was founded by Simone Grillo and Timoteo Ziccardi, in Italy, with a mission of developing the first smart telemetry for extreme and action sports. BRAIN's goal is to allow everyone who participates in actions sports to track every single detail of a session, analyze performance and share the adrenaline. Our BRAIN, your heart.
Link to the Project:
https://www.kickstarter.com/projects/638933385/brain-one-smart-device-to-track-your-motorcycle-pe