Kickstarter brand "Wraith" is looking for funds to create the perfect unisex business watch with Swiss ETA Automatic Movement.
We are a Swedish wristwatch brand based in Stockholm whose sole mission is to deliver premium elite watches with Swiss movements exclusively.
Our products exudes undaunting confidence, premium craftsmanship and quality.
Welcome to the Dark Side of Elegance!
Wraith
The classic description of a Wraith is similar to the image of a tall figure shrouded in a black cloak in which no face can be seen. The Wraith is a being of power, controlled by a greater spirit to do the creatures will. That is where you come in…the wearer, the Master.
By manufacturing our watches with the best Movements and the best Materials available for its unique design, the watch itself becomes a channel of power that exudes undaunting confidence.
The Wraith Manifested…through You!
The goal of our brand:
To design and manufacture classic timeless high-end timepieces with great emphasis on materials, quality & craftsmanship.
The "flagship":
The "Executive Wraith",  a watch yet to be birthed by our manufacturers has a very powerful aura already on the design drawings.
Aid us on our journey from design to completion!
Full description and specs is on our website:   www.wraithwristwatch.com
About Project Creator: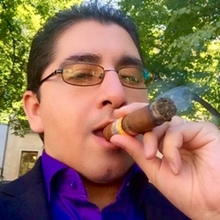 Jorge Roberto Hernandez Castro
A business minded entrepeneur who loves minimalist watches and Cuban cigars.
Mindset is "Go Global not Local" with any Business i start.
Creating quality products is my passion!
Link to the Project:
https://www.kickstarter.com/projects/wraithwristwatch/swiss-eta-automatic-business-watch