NO INTERRUPTIONS, HIGHER TRANSMISSION QUALITY, IMPROVED RESOLUTION, LANGUAGE SELECTION.
Why Stream Manager
It's a quick-change artist.
The Stream Manager combines thousands of sports streams from around in the world into one box; it gets rid of illegal and unlicensed stations; it filters out bad quality streams and transforms countless mediocre and good quality streams into a single stream with the highest resolution and quality.
No constant interruptions. No illegal and unlicensed content. No dangerous malware and annoying advertising. No commentators speaking a language you don't understand. Poor and mediocre resolution becomes excellent resolution.
It's as if you were watching the stream directly on TV with the commentary language of your choice – or none at all. But the difference here is that you can watch your selected sport stream on your PC, Mac, tablet or smartphone – anywhere in the world with Internet reception.
In the past, almost all of the sports streams available on the Internet were illegal. Today there are thousands of licensed and legal networks that broadcast every sports event in the world. Locating your desired event within seconds is one of the strengths of the Stream Manager.
Experience how we do it.
The Stream Manager is a sophisticated module which continually monitors all the available broadcasters around the world. It not only checks the transmission quality and the transmission reliability, but also the resolution quality, the expected legality of the broadcaster and the language of the commentators.
Furthermore, a fully automatic intelligent process calculates the probability of broadcaster overload in one-second intervals and then distributes all of the Stream Manager users to the best broadcasters.

You have 25 sports categories to choose from. You have the chance to select the sports event you like within these categories. This allows you to follow up to 3 games live at the same time.
The start time is displayed next to each sports event. The time is shown in the format you selected in the operating system settings.

Prefer up to 3 commentator languages or turn the commentators completely off and enjoy the stadium atmosphere. The sound in most cases is extracted from a broadcaster and then combined with the video of another broadcaster. Two broadcasters are thus often necessary for a stream.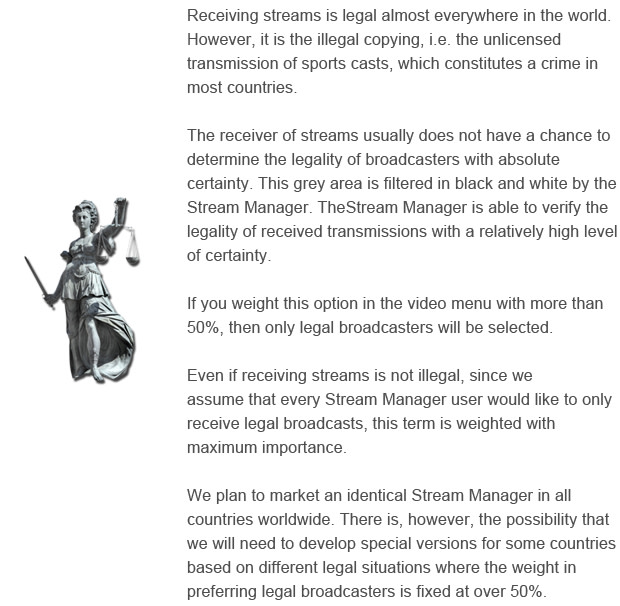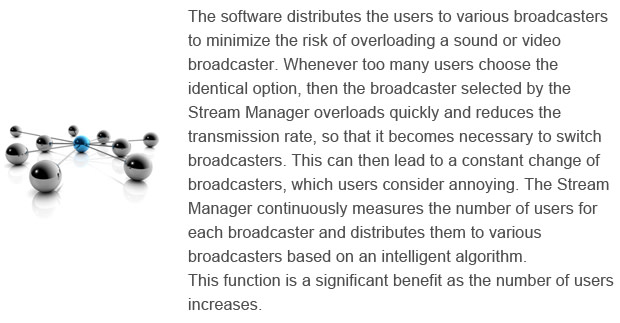 You can define the importance of single criteria individually and steplessly in the Windows-based selection menu by moving the slide bar. A broadcaster is selected fully automatically by the Stream Manager depending on how you weighed them.







The Stream Manager does not discriminate. It doesn't matter who you are or where you're from. No matter whether you use a PC, Mac, iPhone or Android, as long as you're really crazy about sports, then the Stream Manager is right for you.

We wanted to make sports streaming just a little quicker, easier, more convenient and more enjoyable. So, no matter which sport you like, the Stream Manager is right there for you. Anywhere.
We are happy to provide you with a personalized and customized version of the Stream Manager. Of course, you can give a personalized version as a gift to another sports enthusiast.
During one of the two surveys, we will request some details on the person receiving the present. You may provide us with additional personal information. We can integrate up to 20 personalized memories, good wishes, content full of humor or fun in the Stream Manager to put a smile on his or her face.
Two examples:
For a birthday occasion, a birthday song is sung by the whole stadium during a sports transmission followed by loud cheering. This is accomplished by us superimposing fans singing "Happy Birthday" in a game atmosphere. You may be sure that the person receiving this small surprise will very well know who to thank. The sporadic, humorous memories or fade-ins will lead to special moments time and again. Not only the players need to move and go to the restrooms during break time. The dog will like it too. The Stream Manager will remind you from time to time during halftime that even Pluto needs to go outside for a few minutes. Afterward, he will honor your enthusiasm for your team even more.
Treat yourself to a personalized version of the Stream Manager. During one of the two surveys, we will ask for some details about you (your best friends' names, your pet's name, what kind of car do you drive, your birth month and birthday, your favorite club and sports athletes, your hobbies, etc.) to personalize your version.
The Founder
Hans Hildebrandt, Eichberg, Switzerland
Hans Hildebrandt is passionate about mathematics and system analysis. The 46-year old businessman and computer scientist leads the family-owned company and has developed software for companies, capital investors and funds since 1998 with his international team. The German entrepreneur with Swiss roots has lived near Lake Constance in Switzerland for many years and has implemented numerous innovative projects during the last 20 years. Hans has been happily married for 25 years and has 2 adult sons. His international team consists of software engineers and programmers from Turkey, Belgium, Germany, the Czech Republic, Indonesia and Thailand. Goldrain Invest AG was founded in 2008 and is listed under No. CH-130.3.013.841-6 in the Commercial Register of St. Gallen, Switzerland. Hans founded his first company at the age of 20 after his professional education and basic military service. Since then, he has led numerous companies and projects in the construction, raw materials, investment and IT markets.
Link to the project:
https://www.indiegogo.com/projects/sports-streaming-just-like-tv-only-better#/