Share you recycling experience and inspire your friends around the world.
Environmental problems and recycling have always been an important topic for a lot of people and companies alike. But there didn't seem to be a place where those people could connect and reach a goal together.
So RecycleGrid project is aiming at exactly that. The goal is to make the recycling a social experience. And to do that we need a map of recycle points that everyone can access and connections between people. At the moment we have the map that anyone can contribute to and we want to build connections between people.
With RecycleGrid you will be able to use either a website or an app to find recycle points on the map and find friends or just people how also want to be involved in recycling around the world.
To make recycling interesting to ordinary people we already implemented 'recycle check-ins' so you can check-in at recycle locations and we're still working on making sharing that a snap so the ones who do recycle batteries and other waste can inspire others.
Share and inspire.
It is very important to let others know what you're up to when it comes to recycling. It should be easy, convenient and engaging. This is why the apps and the website will have integration with different social platform to make sharing almost effortless. So whenever you drop off materials for recycle or add new place where that can be done it will be shared to social networks that you choose. This way you'll be able to inspire people to do the same and ultimately make the world cleaner for generations to come.
Socialize.
Once you've shared your ideas about better and cleaner future you'd probably want to follow up and connect with friends and other people around the world to see what they are doing, how they doing it and where. So we'll implement social element to enable you to find, connect and interact with people who are interested in doing what you do. That is why we decided to call it Recycle Grid. We also plan to add discussion board so you can talk to other people about recycling and other topics.
Engage.
Some people need just a little push to start doing something good. And often that little thing can be as small as a sticker on their profile picture or an achievement icon on their profile. And we will absolutely do it. You will be able to receive stickers for certain things like check-in at a recycle drop-off location, recycling different types of waste. Leaderboard system will probably motivate you or your friends just a little bit more.
Community-driven
It is always hard to do something on your own. That is why we will make it driven by the community of people like you and I. Everyone will be able to contribute by adding new drop-off locations, leaving tips at those locations, reporting inappropriate entries and so on. Together we will be able to achieve great things.
About Project Creator:
Dmytro Ielkin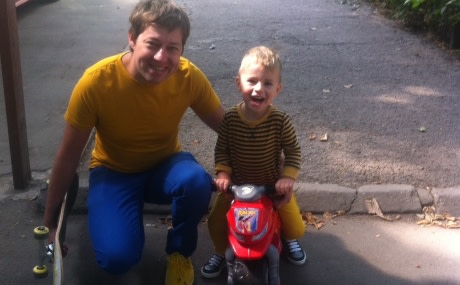 Hi there! If you're reading this then you probably want to know more about me. We, I'm 28 and I'm a developer. Married, have a son.And having my family makes me want to change the world at least a little bit, make it a little cleaner so when my son grows up he doesn't live in a swamp. Also I like playing games, listening to music and creating websites for fun.
I hope you had fun reading this.
Link  to the Project:
https://www.indiegogo.com/projects/recycle-grid-social-recycling#/