Join us! Place your name on Philippines' best online marketplace. Make it happen!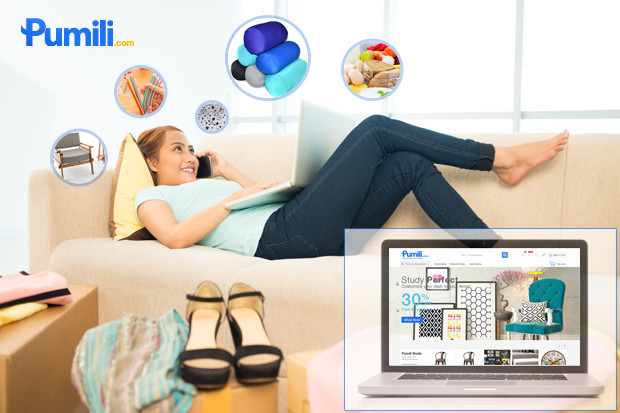 The word Pumili means "Choose" in the Philippine language.
Pumili.com is a marketplace website for the Philippine community. The site will work like ebay.com or amazon.com, but it will be molded to the local culture. As a user of Pumili.com, you will see a more competitive and affordable prices for the products due to little to no set up cost for Business owners.
Pumili.com provides an opportunity for small businesses to be found by their target customers. Customers on the other hand will find convenience in Pumili.com, as most products they need will be found here.
Our Goal & Your Benefits
Our goal is to create a secure online marketplace for businesses to increase their revenue by selling their products online and expand their presence to more people. It is also our mission is to give the best online experience for our users. We want users to find convenience by making it easy for them to find what they are looking for. We are building a one place for everything.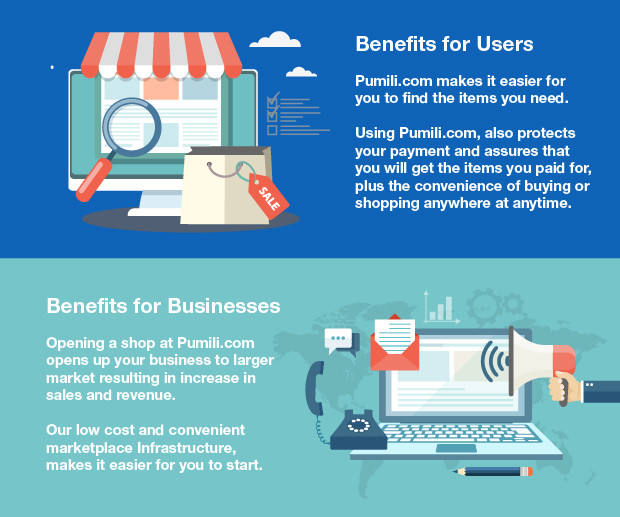 One Place For Everything
Pumili.com will serve as a go to place for people to find what they need. We aim to create a marketplace community which creates confidence between buyers and sellers (Business owners). As a business owner, you can always expect to be paid for the items you sold. As a buyer, you'll always have assurance of getting the item you paid for.
Why Should You Use Pumili.com?
In the Philippines, there are only few to less than 5 marketplace that creates a reliable, safe and secure environment for direct Buyers and Sellers. Most are from international companies which charge significant fee for product post.
In Pumili.com we aim to create a marketplace that doesn't hinder exposure of the Businesses that are using our platform to sell products. We want to push their exposure with little to no fee. We want to open up the market for these businesses as much as possible.
It is a common knowledge that Businesses makes the economy grow. And In order for our economy to grow faster, we need more businesses to operate in the country. Trading has been one of the oldest and most effective form of business.
By making Pumili.com a success, we are encouraging more people to create businesses in the country, which in terms benefit both individual and the whole economy.
More Reasons For Creating Pumili.com
Based on personal experience, there are a lot times that I could not find a product or a supply and wouldn't even know where to look for it. It doesn't appear on the internet. There is no way to find it. Then after sometime, you realize from a colleague that there is an existing business selling the product that you wish.
It is also difficult to canvas prices from other suppliers because when you finally found a supplier that sells what you are looking for, you would already be too happy, so you'll buy it immediately.
Most of the time, you won't be able to find these small businesses simply because they lack exposure.
There are also instances that you'll find the item you are looking for being sold by a starting entrepreneur who lives faraway but agrees to shipped the items to you. But this creates an issue on Trust and Security for both parties.
This situation and circumstances is what we are trying to solve. We want to help small businesses and protect the buyer.
Why Are We in Indiegogo?
We are raising money to cover some of the start-up expenses that we will incur as we build Pumili.com from the initial idea phase to the launch of the website. Most of the expenses will be spend on Web Development, creating and developing Pumili.com.
Web Development
The development of a website platform with functionality to suite our needs is too complex and will not be possible without a good team of professional developers to accomplish it.
It is a right move to hire a team of professional developers to do the development of Pumili.com. Though the cost is high, the quality and workmanship is not to be sacrificed, it is the number one priority. Our goal is to bring in the best team to create the website for us.
What if we don't reach our goal?
Whether we reach our goal or not, all of the money we raise will be going directly towards developing Pumili.com. The perks we are offering will be fulfilled to all of our bighearted supporters.
However, without reaching our goal it will make it much harder for us to create an effective platform that has all the functions our community has asked us for. Support us today so we can create the best marketplace for the Philippine community.
We aim to established Pumili.com, and we very passionate about it. Pumili.com is a great opportunity for the local community, and it is our goal to make it a happen.
How else can you help?
We appreciate any support you can give in helping us get our message out to there.
Please share our campaign with family, friends, and anyone else in your network that might be interested. Indiegogo has made this simple for you with their "share tools".
Thank you for your support and for helping us create better marketplace for the Philippine community.
Again. We cannot THANK YOU enough for your donation to help Pumili.com startup a success.
THANK YOU so much for choosing Pumili.com
Link to the Project:
https://www.indiegogo.com/projects/pumili-com-a-secure-marketplace-for-everyone#/